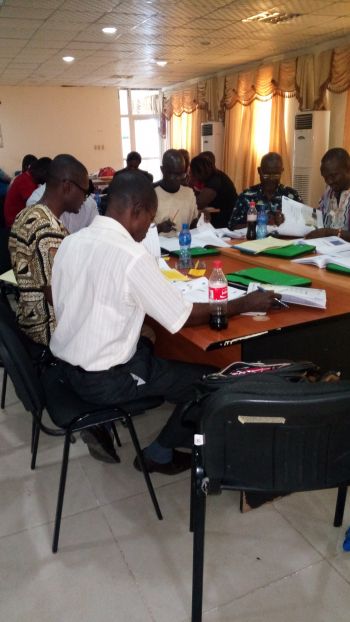 The Public Procurement and Concessions Commission (PPCC) with support from the UNDP's Strengthening National Capacities for Development (C4DE) Program has concluded another rounds of the Introductory Certificate in Public Procurement–CIPS Accredited Level 2 training for public procurement practitioners representing government ministries, agencies and county based institutions. The training was conducted in two phases in the Conference Hall of National Elections Commission.
Phase one of the training commenced on Tuesday, June 14, 2016 and ended on Friday, June 17, 2016, while the second phase ran from June 20 to 23, 2016. The training initiative is part of the PPCC's capacity-building interventions aimed at addressing the human resource constraints faced by many government institutions in the administration of procurement. It seeks to enhance effectiveness and efficiency in the conduct of public procurement.
Addressing participants at the start of the training session on June 14, 2016, Executive Director James Dorbor Jallah recounted the numerous achievements made by the Commission over the years through the support of UNDP. He named the establishment of Hand-Holding facility, Call Center and conduct of several capacity building workshops as some of the positive interventions made by the UNDP to enhance PPCC's capacity as well as improve public procurement in Liberia. Mr. Jallah accentuated that PPCC will continue to champion the cause for a professionalized public procurement system with a view to strengthen institutional capacity within procuring entities. "The Public Procurement and Concessions Commission envisions providing this training to all qualified public procurement practitioners over the next few years, as the certification to be obtained thereafter will become a requirement for practice within the public sector" he added. 80 procurement practitioners participated in the training sessions.
The training was conducted in joint partnership with the UNDP and the Chartered Institute of Purchasing and Supply (CIPS), headquartered in the United Kingdom. CIPS Level 2 is a foundation course to prepare participants for advanced trainings within the field of public procurement. The Chartered Institute of Purchasing and Supply, UK is one of the leading bodies representing the field of procurement and supply chain management.
The UNDP's support to this initiative is pursuant to a study conducted in 2012/13 which revealed that there is a huge capacity deficit in the field of public procurement which must be adequately addressed to ensure the effective and efficient administration of procurement across the government.