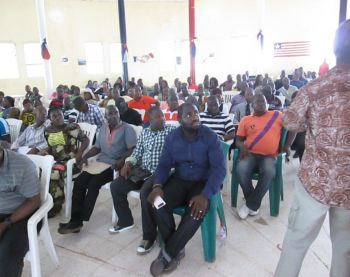 The Public Procurement and Concessions Commission (PPCC) in partnership with United Nations Development Program (UNDP) has concluded a two day workshop aimed at strengthening the capacity of compliance officers and internal auditors from the Ministry of Finance and Development Planning (MFDP) and the Internal Audit Agency (IAA). It also seeks to assist them assess procuring entities' compliance with the 2010 Restated Public Procurement and Concessions Act along with its accompanied Regulations. The workshop was held in the port city of Buchanan, Grand Bassa County, from December 4 - 5, 2015.
The rationale for the workshop is to strengthen collaboration with the Internal Audit Agency and the Accounting Services Unit of the Ministry of Finance and Development Planning, and the Liberia Revenue Authority, with a view to prevent corruption and harness the meager resources so as to achieve value for money and improve efficiency in public procurement.
In his opening remarks, the Chief Executive Officer of PPCC, James Dorbor Jallah recounted efforts made by the Commission through the conduct of series of capacity building workshops geared toward increasing efficiency and ensuring value for money in public procurement. He thanked the Internal Audit Agency (IAA) and other participating institutions for collaborating with the PPCC on this important initiative which seeks to enhance compliance with the PPCA and its accompanied Regulations while promoting good governance and accountability, as well as establishing strategic partnership amongst integrity institutions.
In separate remarks, the Deputy Director General for Administration of Internal Audit Agency(IAA), Mr. Clarence Williams, challenged the participants to take advantage of the training opportunity provided by the PPCC to strengthen their capacities in public procurement with a view to improve performance at their workstations. He further emphasized that IAA will continue to partner with PPCC to formulate strategies to prevent corruption and waste of public resources.
A total of 224 staff from Internal Audit Agency, Ministry of Finance and Development Planning, Liberia Revenue Authority, Liberia Electricity Corporation, as well as the host, Public Procurement and Concessions Commission (PPCC) participated in the two days workshop.
Topics delivered during the two day engagement included, Procedure for the Execution of the 25% Liberia MSMEs' Procurement Opportunity, Utilization of the PPCC's Tutorial Guide for the Vendors Register, Bid Evaluation, Compliance Requirements of the PPCA, Record Management, and Introduction to PPCC's Entity Assessment Guide. The workshop was facilitated by PPCC staff including Chief Executive Officer, James Dorbor Jallah.