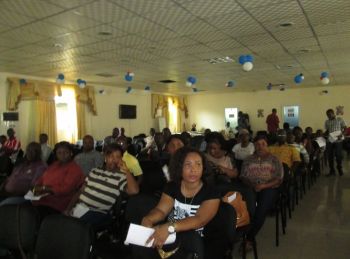 As part of efforts to strengthen efficiency and reduce waste and abuse of public funds, the Public Procurement and Concessions Commission (PPCC), with funding from United Nations Development Program (UNDP), on Saturday, November 7, 2015 concluded a two-day workshop for internal auditors in an attempt to build their capacity to assess procuring entities' compliance with the 2010 Restated Public Procurement and Concessions Act along with its accompanied Regulations. The workshop was held on November 6 and 7, 2015 respectively, in the Conference Hall of National Elections Commission.
A total of 115 staff of Internal Audit Agency assigned at government ministries, agencies and commissions attended the workshop. 47 auditors (junior and senior) attended the first session held on November 6, 2015, while 74 participated in the November 7, 2015 session.
It is expected that engagement with the Internal Audit Agency(IAA) and its assigned auditors will enhance compliance with the PPCA and its accompanied Regulations, promote good governance and transparency, promote strategic partnership amongst integrity institutions and enhance the their abilities to perform their tasks.
PPCC Executive Director Mr. James Dorbor Jallah and his IAA counterpart, Paul Collins, challenged participants to perform their duties without fears or favors. Both men disclosed that their institutions will continue to design and implement strategies to prevent corruption and waste of public resources.
Presenters developed topics into module and made PowerPoint presentations to enhance capacity of participants so as to efficiently and effectively review and analyze procurement transactions in a more professional and guided manner.
Topics delivered during the two day workshop included Procedure for the Execution of the 25% Liberia MSMEs' Procurement Opportunity and Utilization of the PPCC'S tutorial Guide for the Vendors Register, Procurement Methods, Thresholds and Lead-time, Compliance Requirements of the PPCA, Fundamentals of Annual Procurement Planning: the Procurement Plan Templates, Requirement Checklist and Record Management, and Introduction to PPCC's Entity Assessment Guide.