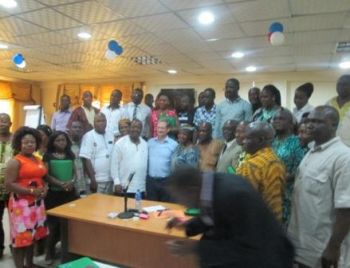 The Public Procurement and Concessions Commission (PPCC) has concluded two professional certification training sessions in public procurement aimed at building a cadre of procurement professionals as well as enhancing efficiency in the conduct of public procurement across ministries and agencies of government. The sessions were conducted under the auspices of United Nations Development Program (UNDP) and Chartered Institute of Purchasing and Supply (CIPS), with a view to enhance efficiency in the conduct of public procurement.
PPCC's Chief Executive Officer James Dorbor Jallah and Mr. Cleophas Torori, of UNDP made remarks at the start of the sessions. Both men expressed optimism that the training will provide opportunity for increased efficiency in the conduct of public procurement with the ultimate objective of ensuring value for money.
As part of the course requirements, participants were requested to complete and pass an in-class assessment consisting of one hundred (100) multiple choice questions as well as a work-based assignment where participants are given 8 weeks to complete a written essay to demonstrate their knowledge and understanding of the syllabus. The exercises are part of the qualification requirements leading to the award of a dual UNDP/CIPS Accredited Level 2 Introductory Certificate in Purchasing and Supply.
An array of procurement practitioners from key ministries and agencies of government participated in the first session held in the facility of Kendeja Resort, from October 19-22, 2015. The second session was attended by staff of the PPCC and representatives of other ministries and agencies of government including Ministry of Finance and Development Planning(MFDP), Liberia Revenue Authority, Liberia National Police, among others. Each session lasted for a period of four days.
The training provides participants with a clear understanding of the principles of effective public procurement, the generic procurement process and the role of corporate and transactional procurement, as well as the capability to plan, implement and evaluate a sourcing process appropriate to the value/risk of the goods/service being procured.
Courses delivered at the training sessions include principles of public procurement, procurement policies, processes and practices, procurement planning and strategy development, risk assessment and risk mitigation, engaging stakeholders, writing specifications, and writing Terms of Reference. Others include Identifying suppliers, selection of methods (RFQ, ITB and RFP), methods and procedures of advertisement, preparation of solicitation documents, inviting offers, bid receipt and opening, evaluating bids and proposals, contract approval process, contract committee submissions and approvals, contract award, contracting/clarification/negotiation, among others.
The UNDP&CIPS procurement certification courses are accredited by the Chartered Institute of Purchasing and Supply (CIPS), one of the leading bodies representing the field of procurement and supply chain management.