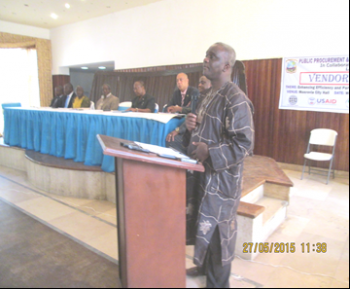 The Public Procurement and Concessions Commission (PPCC) has established a Vendors Register aimed at ensuring efficiency in public procurement, enhancing the level of participation of businesses in government procurement, and facilitating the implementation of the Small Business Act legislated to promote the growth of Liberian-owned businesses.
The Vendors Register was inauguratedon Wednesday, May 27, 2015 at the Monrovia City Hall. It will be populated with information received from interested businesses through a registration process that commenced on May 27, 2015 and will continue on an ongoing basis.
It is important to note that only companies listed on the PPCC Vendors Register will be eligible to participate in public procurement effective fiscal year 2015/2016 which begins on July 1, 2015. Companies and businesses wishing to register can do so by obtaining the Vendors Registration Form free of charge and submitting the completed form along with all supporting documents to the PPCC office on Capitol Hill and obtain a PPCC delivery receipt.
Vendors and businesses in the counties may submit their completed Vendors Registration package in a sealed envelope to the office of the Superintendent and obtain a PPCC delivery receipt. The Vendors Registration Form can also be obtained from PPCC office on Capitol Hill, offices of various business umbrella organizations, offices of county Superintendents, and the Small Business Department of the Ministry of Commerce. It can also be downloaded from the PPCC website at www.ppcc.gov.lr. The Commission therefore encourages owners of businesses or companies to register with PPCC.
The launch of the Vendors Register was graced by senior government officials, executives and members of the business community as well as partners and institutions funding the initiative.