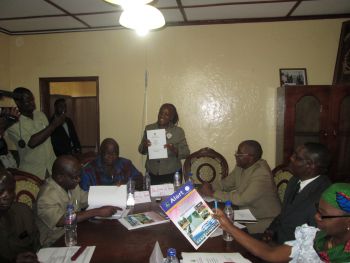 A five-year strategic plan developed by the Public Procurement and Concessions Commission (PPCC), with funding from the World Bank's Economic Governance and Institutional Reform Project (EGIRP), was on Tuesday, October 28, 2014 officially launched at the Capitol Hill offices of the Commission.
ThePlan presents the strategic choices the Commission has purposefully chosen to pursue over the next five years (2014 – 2019). It seeks to achieve key strategic objectives and desired outcomes through the identified strategic initiativesgeared towards enhancingthe understanding and appreciation of political leaders and heads of public sector institutions,strengtheningenforcement of the PPCA and its regulations and holding public entities more accountable in their procurement decisions by developing and implementing an effective Sanctions Regime that will motivate public sector entities to comply with the PPCA and its regulations. Additionally, the plan will help to strengthen the capacity and capability of the Commission in the area of monitoring and compliance to undertake facts-based monitoring visits and procurement audits,while at the same time strengtheningpublic and institutional understanding and appreciation of the Commission and PPClaw. The plan will also decentralize operations of the Commission to synchronize with the Government's pending decentralization of political, fiscal and administrative decision-making functions to the counties. This shall be achieved by preparing a comprehensive decentralization strategy that stratifies decentralization activities and movements into short-term, medium-term, and long-term. This plan shall, therefore, consider the establishment of regional hubs, the establishment of PPCC county offices; the mobilization of the required resources; the planning, organizing and continuous hosting of local government sensitization and procurement training workshops; and the planning and implementing of other regional activitiesof the Commission.
The Plan will further strengthen public confidence in the integrity of the Concession Granting Process by enhancing the capacity of the Commission in concessions; constructively engaging stakeholders in the concessions domain; co-opting and strengthening civil society organizations (CSOs), including faith-based apex bodies, in monitoring of the concession granting processes; co-opting other integrity institutions in advocacies to support the full implementation of the PPCA and its regulations.
The launch of the Strategic Plan was witnessed by stakeholders and international partners including Ministry of Finance and Development Planning, Liberia Anti Corruption Commission, Governance Commission, USAID-GEMS, and the World Bank.