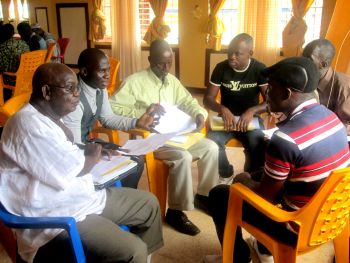 Strengthening the procurement capacity of actors in the public procurement sector to ensure compliance with the procurement law of Liberia is one of the biggest challenges confronting the Public Procurement and Concessions Commission (PPCC).

This challenge, no doubt, has hampered the successful implementation of the capacity building mandate area of the Commission, but the intervention of United Nations Development Program (UNDP), through its Strengthen Transparency, Accountability, Oversight and Participation (STAOP) project is helping the Commission to strengthen the procurement capacities of public officials in the conduct of public procurement. This is evidenced by the overwhelming participation of county authorities in the recently held technical working sessions in five of the fifteen counties of Liberia; namely Grand Gedeh, Sinoe, Nimba, Bong and Bomi. The sessions ran from Monday, May 26 to Tuesday, June 10, 2014, utilizing the county to county approach.

The STAOP project aims to support the achievement of the Agenda for Transformation and the objectives of the UN Development Assistance Framework for Liberia (2012-2017), which prioritizes strengthening governance and promoting transparency and accountability.

The training initiative was championed by the PPCC through the Division of Information Dissemination and Communications. Mr. Nathan N. Bengu, Director of Communications, led the training team to the counties and challenged the participants to be robust in the fight against corruption in order to achieve the value for money concept in the public procurement process. He warned that the PPCC will not take lightly the contravention of any provision of the PPC Act by entities of government in the conduct of their procurement activities. Mr. Bengu called on the participants to take advantage of the technical working sessions organized by the Public Procurement and Concessions Commission (PPCC), with funding from the UNDP to enhance their capacities in public procurement. He accentuated that the PPCC, as part of its plans to improve governance in Liberia, will continue to work with county authorities to strengthen corruption prevention, transparency and accountability in public procurement. The sessions were held on the theme: Enhancing Structural Authorities Ability to Prevent Corruption, Ensure Transparency and Promote Compliance.

Facilitation of the technical sessions was done by the PPCC training team. The team utilized topics germane to corruption prevention and the functions of procurement staff and decision makers. Topics discussed included Compliance requirements, types of procurement, methods, lead time and thresholds, preparation of procurement plan, bidding process, bid evaluation process and record management.

The sessions were generally successful and well conducted, with a recorded attendance of 97 participants slightly below the targeted attendance of one hundred(100). Many of the participants saw the working sessions as opportunities to enhance their knowledge in public procurement and increase their corruption prevention abilities to efficiently manage development funds and deliver services, as well as identify programming, procedural and management system gaps within county administration.