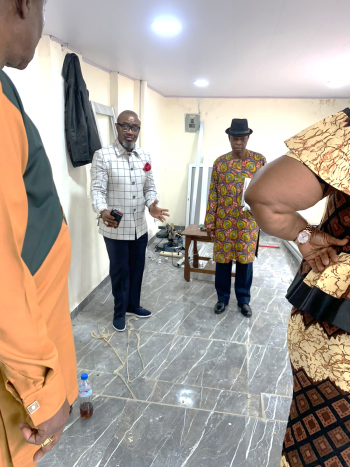 Liberia's Public Procurement and Concessions Commission (PPCC) is leaving no stone unturned in its latest effort to create a work friendly environment that would boost job productivity and open new opportunities for the modernization of public procurement in Liberia.
One of such efforts is the ongoing renovation works geared towards shifting the infrastructural paradigm of the building hosting the PPCC. The works are mainly concentrated on the interior design of the office facility, which includes structural works, electrical cabling and deployment of office furniture to every office compartment. The Chief Executive Officer/Executive Director of PPCC, Bodger Scott Johnson, along with his able lieutenants, is the brain behind the transformation.
With nearly eighty-five percent of the interior works concluded, Executive Director Johnson took up the challenge to lead an array of top government officials on a tour of the modernized office facility and to showcase the utilization of funding support from the Government of Liberia.
Those on the guided tour included the Resident Representative of the International Monetary Fund (IMF), Mr. Aidar Abdychev, Deputy Minister for Budget at the Ministry of Finance and Development Planning (MFDP), Madam Tanneh Brunson, the chairperson and members of the PPCC Board of Commissioners, as well as officials of the World Bank.
The visiting officials thanked Mr. Johnson for the effort and called for a sustained engagement with partners and donors, aimed at achieving the objective on the public procurement modernization effort.
The financial support was made possible by the Government of Liberia through the Ministry of Finance and Development Planning.
The renovation of the office facility coincides with the ongoing public procurement modernization effort that will require migration to electronic procurement, which supports online submission and processing of procurement activities, including bid tendering, procurement plan preparation and submission, and approval.