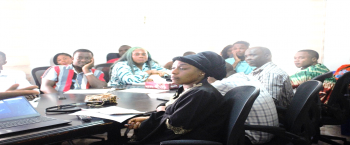 The Public Procurement and Concessions Commission (PPCC) is working with two key international development partners (World Bank and African Development Bank), to modernize public procurement in Liberia. Part of the modernization effort is the hiring of twenty-three (23) staff to educate various stakeholders and the general public on the procurement, installation, and deployment of the Electronic Government Procurement(e-GP) system. The staff have been hired, deployed and will remain in the employ of PPCC for three months.
As part of their responsibilities, the staff will work to create awareness and inform the public and relevant stakeholders about the development and working of the e-GP System and the accompanying benefits. The African Development Bank (AfDB) is funding the exercise as part of efforts to modernize public procurement through the development of a robust electronic procurement platform that would essentially address the challenges associated with the conduct of public procurement and concessions awards in Liberia.
Prior to the deployment, the staff were given special orientation on the overall objectives and the expected deliverables of the assignment. Presentations were also delivered on the mandate and working of various units and divisions of PPCC. The orientation program was designed to sensitize and educate the staff on the job responsibilities and expectations. They were recruited through a competitive process to serve in the capacity of E-GP Awareness Staff.
Build-ups to the rollout of Liberia's public procurement reform program is traced as far back as 2006 when the PublicProcurementand ConcessionCommission (PPCC) came into force and commenced active implementation of the PPC Act of 2005. The Act mandates the PPCC to build capacity of officials and institutions in public procurement.
PPCC has closely collaborated with partners and relevant stakeholders to implement this mandate area, evident by the myriad of awareness and sensitization workshops conducted across Liberia to educate and strengthen the procurement capacity of public officials, private sector-suppliers of goods, works and services, as well as the general public.