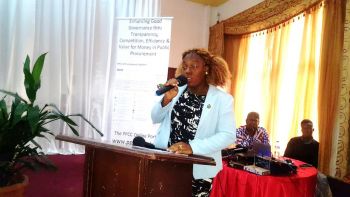 The transition from manual to electronic procurement system in Liberia is fast approaching its logical conclusion, especially with the tendering of Request for Bid (RFB) and the Bidding Document.
The RFB is intended to solicit bids from eligible bidders for the supply, installation, configuration, deployment and maintenance of an Electronic Government Procurement (e-GP) System for the Government of Liberia on Software as a Service (SAAS) Model. The tender is published on the PPCC website and other sites, including Liberia's Executive Mansion website, World Bank's online platform, STEP and two local dailies. A Pre-Bid meeting has been held with interested bidders and responses to their queries/comments have been drafted.
The tendering of the RFB and the Bid Documents was preceded by the development and reviews of key documents to inform the development of the e-GP system in Liberia. Some of the key documents include E-GP Strategy that sets the roadmap for the development of e-GP system in Liberia, the Business Process Reengineering (BPR) report, E-GP Business, Functional and Technical Specification (BFTS) report, and E-GP Card Catalogue.
The development of these separate documents was intended to formulate a robust e-GP system that will address the challenges and anomalies, as well as to set the agenda for an all-inclusive e-GP system that would interface with other online platforms in Liberia, for the sole purpose of increasing effectiveness, efficiency and compliance to the existing pieces of legislations on public procurement and financial management.