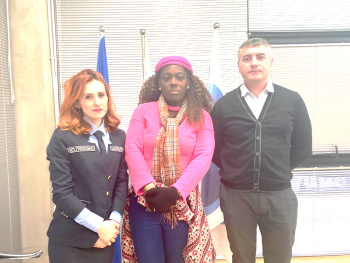 Liberia's Public Procurement and Concessions Commission (PPCC) is setting the agenda that will harness growth and boost development. The agenda seeks to modernize public procurement and set the basis for effectiveness, efficiency, transparency and high pedigree of integrity in the conduct of public procurement and concessions processes nationwide.
The first on the list of the agenda was the rounds of study tour visits to countries that have digitized their procurement systems to ease the challenges associated with paper based or manual procurement. The East African State of Rwanda and Southern African nation of Botswana were visited by PPCC to do experience sharing and gather basic information that will inform the development of a robust electronic procurement system in Liberia. An additional visit was made to the Republic of Georgia in Eastern Europe on similar initiative. Experiences gathered from those visits are being used by the PPCC to develop an e-Procurement platform that will address the anomalies associated with the conduct of public procurement.
In those jurisdictions visited, and as part of the experiences gathered by the PPCC teams, electronic procurement system is seen as a game changer or a prototype for transparency, accountability, effectiveness and efficiency in public procurement.
The crust of the tours was to undertake assessments of the e-procurement portals established in those jurisdictions and to clearly understand how such efforts have been able to transform the procurement system, as well as the values and benefits accrued from the initiative, for possible replication in Liberia's earmarked e-Procurement system.
When established in Liberia, the online procurement system will automate most of the manual procurement processes that are inherent with individual discretions, which are the greatest vulnerabilities and highest risks in public procurement and address the delays often experienced with the submission and approval of procurement documents. The platform will have linkages with other online applications, including the Integrated Financial Management Information System (IFMIS), revenue portal of Liberia Revenue Authority (LRA), Liberia Business Registry, and the anticipated e-Government system.
Also, three separate teams of PPCC staff were sent to Ghana and United Arab Emirates to undertake training in preparation for e-Procurement digitization efforts. In Ghana, the PPCC staff received training in contract management from the Ghana Institute of Management and Public Administration (GIMPA). Several other staff of PPCC, including the Chief Executive Officer, Atty. Jargbe Roseline Nagbe Kowo, participated in high level training on Policy and Governance, and e-Procurement. The training sessions were separately conducted in Dubai by Blackbird and Crown Agents respectively. Both sessions are very essential to the development, working and management of the electronic procurement system. The study tours were sponsored by the African Development Bank(AfDB).