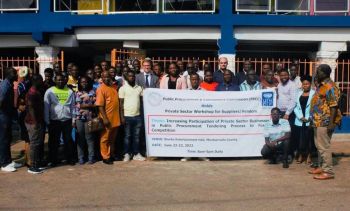 Undoubtedly, the private sector remains the biggest driver and engine of growth in any given economy. This is reflected in the ways businesses are conducted and how they impact revenue generation, employment, economic stability, as well as social safeguards.
In Liberia, the biggest challenge has been the all-pervasive nature of doing business-mostly influenced by low operating capital, lack of basic skills and opportunities in the sector. Limited access to government contracts and tender opportunities through a competitive procurement process is another huge challenge that is confronting and impeding growth in the sector. But the latest moves by PPCC to build the capacity of vendors give some promising sounds of growth as you will see in the capacity strengthening engagement with the private sector during the month June 2022.
The engagement brought together business entrepreneurs at the invitation of Public Procurement and Concessions Commission to avail themselves to the capacity building opportunities to increase their knowledge and participation in public procurement tendering processes. The engagement was held at the Sharks Entertainment Hall in Sinkor, from June 22-23, 2022.
The Chief Executive Officer of PPCC, Atty. Jargbe Roseline Nagbe Kowo, delivered remarks and challenged the participants to take advantage of the training opportunity to upgrade the standards of their businesses and increase their investment portfolio. Three key international partners, namely: USAID, European Union, and African Development Bank (AfDB), graced the opening session and made separate remarks.
The engagement provided the opportunity to the participants to understand and become knowledgeable about the bidding process and the opportunity thereof, as well as the ongoing effort to digitize public procurement and bring innovation and productivity to the public procurement process.