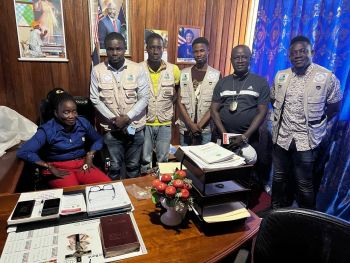 The Public procurement and Concessions Commission continues to strengthen the capacity of private sector businesses to take advantage of public procurement opportunities, including the 25 percent procurement exclusively set aside for Liberian owned businesses in the Small Business Empowerment Act, legislated in 2014. Part of the capacity strengthening effort is the latest visitation exercise that took PPCC staff to several businesses in the capitols and provincial cities of five of the fifteen political sub-divisions of Liberia, namely: Margibi, Grand Bassa, Bong, Nimba and Grand Gedeh Counties,
The goal of the exercise was to obtain first-hand information on the status and operating capacity of businesses that are registered on the online vendors registration platform of PPCC. It also sought to establish legitimacy of businesses and validate information contained in the registration packages, such as location, contact details, business activity code, and bank account information (title & signatories) of registered businesses.
The Vendor Register is an online porter that was designed in 2015 to promote the growth of Liberian-owned businesses, formalize the informal sector of the economy, improve tax compliance and revenue generation, and ensure compliance to the provisions of the Public Procurement and Concessions Act. The platform also seeks to enhance efficiency in public procurement, increase the level of participation of businesses and companies in public tenders, and facilitate implementation of the Small Business Empowerment Act, of 2014.