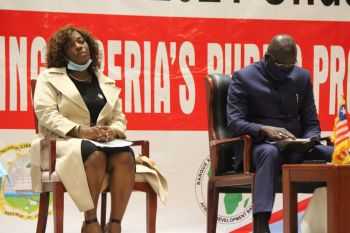 The Public Procurement and Concessions Commission held its third annual procurement forum in Monrovia at the Ministerial Complex in Congo Town from December 1-3, 2021. The three-day celebration, hosted at the opening ceremony, HE. Dr. George Manneh Weah, President of the Republic of Liberia, Hon. Bhofal Chamber, Speaker of the 54th National Legislature, Hon. Albert T. Chie, President pro-Tempore of the Liberian Senate, other stakeholders from government and the private sector including procuring entities and well-wishers.
This year's forum, which was held on the theme "Innovation and Reform-Strengthening Liberia's Public Procurement System" sought to address the implementation challenges with the PPC Act and find workable solutions that will enhance national compliance for national development.
The forum was also climaxed on day three with a grand parade from broad street to the Monrovia City Hall. At the closing program, formal indoor activities were held including an extravagant cultural performance amongst others.
It is important to note that The World Bank office in Liberia funded the Forum through the Public Financial Management Reform for Institutional Strengthening Project (PFMRISP) based in the Ministry of Finance and Development Planning (MFDP). The IPFMRP project is the key driver of the public procurement modernization effort. It seeks to establish a well-functioning procurement system in Liberia by employing the necessary tools to digitize procurement and ensure effectiveness and efficiency in public procurement.
The successful holding of the 2021 Annual National Procurement Forum is part of preliminary activities that will inform the establishment of an electronic procurement platform in Liberia and remove the anomalies and individual discretions often associated with paper-based procurement.
The first Annual National Procurement Forum was held in 2008 following two years of implementing the Public Procurement and Concessions Act of 2005. Experiences shared by stakeholders and the outcome thereof informed the restatement and amendment of the 2005 Act.
Also, in 2016, the 2nd Annual National Procurement Forum was held by the PPCC and partners with the objective of engaging and gathering feedback from relevant stakeholders on the implementation bottlenecks of the Restated and Amended Act of 2010. Part II, Section 5(i) of the PPC Act of 2010 mandates the PPCC to hold an annual procurement forum on the status of the implementation of the Act.
The Commission wishes to thank the Government of Liberia and her partners for the level of cooperation received as she look forward to more of these engagements.