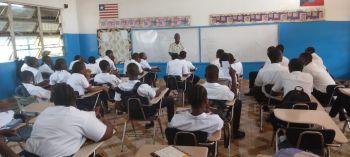 The Public Procurement and Concessions Commission (PPCC) has embarked on a series of awareness campaigns to gauge the views of the public on the impacts of the public procurement implementation program in Liberia.
The campaign prioritizes students attending secondary schools, colleges, universities, and intellectuals from the different intellectual centers in Montserrado, Bong, Grand Bassa, Bomi, Margibi, and Nimba Counties.
The staff of PPCC are the lead campaigners and have been making some outreach adventures at different universities and other centers to propagate messages about the gains and challenges of Liberia's public procurement reform program. The campaign is focused primarily on the working of the Commission and the benefits thereof. It also speaks to the use of accountability and greater transparency in public procurement, which ultimately leads to national development and economic growth.
Scores of university students and the general public are expected to benefit from this initiative by strengthening their knowledge and understanding of the public procurement laws and the accompanying pieces of legislation on good governance.
Also, the Public Procurement and Concessions Commission is moving to address the procurement capacity challenges at various procuring entities of the Liberian Government. Part of the approach is to reach out, determine and resolve some of the contending procurement issues through capacity strengthening to improve performance and increase compliance to the PPC Act.
During these engagements, members of different procurement structures within the entity are made to understand their roles and responsibilities as contained in the PPCA. They are also thought to respect and uphold the rules on public procurement. A number of procuring entities have been visited since the commencement of this program in October 2021.