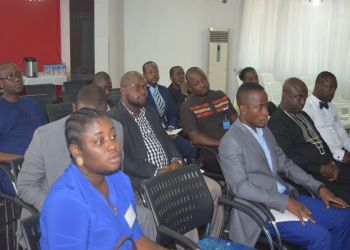 The Public Procurement and Concessions Commission(PPCC), through the funding intervention of United Nations Development Program(UNDP), has concluded a procurement compliance workshop aimed at orientating newly appointed officials of government to the compliance requirements of the Public Procurement and Concessions Act, as well as strengthen their procurement capacity to achieve greater efficiency, effectiveness, transparency and accountability in public procurement.
The workshop was held in the second floor conference facility of Ministry of Finance and Development Planning (MFDP), from June 18-21, 2018. The participants were mainly heads of agencies and autonomous commissions, state owned enterprises, deputy and assistant ministers for administration, and procurement directors. 143 officials participated.
Addressing participants at the start of the workshop, the Chief Executive Officer of PPCC, James Dorbor Jallah, narrated that the orientation sessions were particularly meant to expose newly appointed public officials to the public procurement legal framework, as well as its operating procedures and processes. He urged the participants to take advantage of the available opportunity to increase their knowledge in public procurement and ensure compliance with the PPC Act.
Similarly, UNDP Deputy Country Director for Programs, Cleophas Torori, challenged the participants to always observe the principles of transparency and integrity in the performance of their procurement responsibilities and oversight functions. He said UNDP will continue to direct its investment to the development of a well-functioning public procurement system in Liberia.