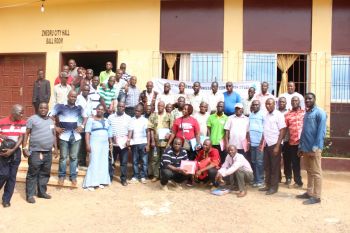 The day was Thursday, May 4, 2017 when scores of decision makers and technicians from county based procuring entities trooped in to the provincial city of Zwedru in Grand Gedeh County to attend a two-day public procurement capacity building workshop.
The workshop was an initiative of Public Procurement and Concessions Commission (PPCC) primarily designed to strengthen the capacity of local authorities so as to increase effectiveness and efficiency in public procurement which ultimately leads to the attainment of best value for money.
The Country Director of United Nations Development Program (UNDP), Mr. Pa Lamin Beyai, briefly attended the workshop and spoke to the participants. Mr. Beyai mentioned that adherence to basic anti-corruption principles and laws including the Public Procurement Act of Liberia must be viewed by all Liberians as the best options for the forward march of Liberia. He challenged the participants to take advantage of the training to enhance their work at the local level.
Lectures were delivered in key procurement areas to address the concerns of the participants and narrow the capacity gabs at the local level. The Chief Executive Officer, Mr. James Dorbor Jallah and Senior Compliance and Monitoring Officer, Mr. Himmie E. Langford, delivered presentations during the workshop. Mr. Jallah discussed the relevance of the two newly developed strategies namely; framework agreement/advance procurement and vendors register. He opined that unless businesses/companies are registered with PPCC they are not eligible to win government contracts. Mr. Jallah urged the participants to work with the local businesses to bring them into compliance so as to take advantage of the minimum 25% procurement opportunity as contained in the Small Business Act.
A presentation was also delivered by Mr. Himmie Langford to bring to the attention of participants risks associated with project implementation at the local level. Mr. Langford said unless a project is monitored, the risk of failures is high. He drew different scenarios about project design and implementation, monitoring and evaluation, and the associated risks.
The training workshop was held from May 4-5, 2017 to address the procurement capacity gabs at the local level so as to ensure greater efficiency, transparency, accountability and value for money in public procurement. Beneficiaries included county authorities, procurement officers, chairs of Project Management Team, city mayors as well as representatives from the health and education sectors based in Sinoe, Grand Kru, RiverGee, Maryland and Grand Gedeh Counties.