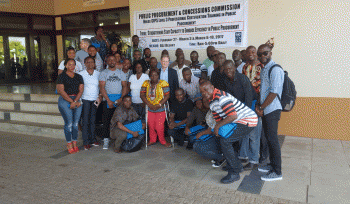 The Chief Executive Officer of Liberia's premier regulator for public procurement and concessions, James Dorbor Jallah has vowed to professionalize public procurement in Liberia and create opportunities by improving upon the existing capacity of procurement staff, so as to qualify them for the UK based Chartered Institute of Purchasing and Supply's (CIPS) accredited certificate awards in Purchasing and Supply.
Mr. Jallah made the assertions Friday, March 10, 2017 at the Grand Royal Hotel in Sinkor, during the closing ceremony of CIPS Level 3 back-to-back training sessions which enrolled seventy (70) procurement staff from government ministries, agencies and commissions. He said PPCC will continue to forge partnership with UNDP and provide the enabling environment to help public sector procurement practitioners. The training was conducted at the RLJ Resort in Kendeja and Royal Grand Hotel in Sinkor.
CIPS 3 training requires participants to undergo five days of intensive class room work, followed by a work based assignment where participants are given a set of questions and a project to complete within a given time. Successful candidates from this stage will qualify for CIPS level 4, which is the last stage in this circle. The course was facilitated by Poul Muller, from the Procurement Support Office (PSO) in Denmark.
The training is an initiative of Public Procurement and Concessions Commission designed primarily to professionalize public procurement in Liberia. Capacity development remains one of the biggest priority areas of the Commission. The training commenced in 2015, with the conduct of the first CIPS Level 2 Introductory Certificate training held at RLJ Resort in Kendeja. It was subsequently held in October 2015, and in June & September 2016. PPCC collaborated with UNDP through its Procurement Support Office (PSO) in Denmark to conduct the training.