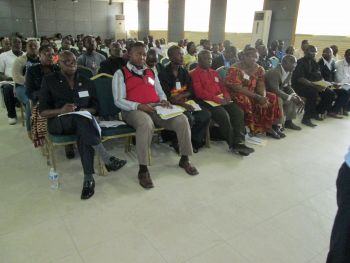 As a premier government institution charged with the responsibility of regulating and monitoring the implementation of the procurement reform program of Liberia, the Public Procurement and Concessions Commission, on Thursday, May 8, 2014 commenced a two day workshop at the Samuel Kanyan Doe Sports Complex in Paynesville aimed at strengthening the knowledge of procurement practitioners in procurement planning. The workshop was a kickoff to the Annual Procurement Plan Hearing exercise which officially began on Monday, May 12, 2014.

The primary focus of the workshop was to ensure the proper and timely preparation of Entities Annual Procurement plans and to provide guidance to procuring entities for the effective utilization of the procurement plan as well as to enable them to ably update the plans during the course of the fiscal period and create awareness on compliance and related issues.

Experiences have shown that Procuring Entities will have appreciable levels of understanding of the procurement plan preparation process when the Procurement Plan hearing exercise is preceded by workshops dedicated to that purpose. The Commission collaborated with USAID-GEMS through technical support for the conduct of the workshop.

Procurement Plan Hearing is an annual event introduced in 2009 by the Commission to scrutinize entities annual procurement plans so as to ensure compliance with Section 40 of the PPC Act. As part of the requirements for the hearing, Procuring Entities are usually requested to submit their annual procurement plans to the Hearing Committee and make physical appearances to justify procurable items placed in the plans.

Nearly 300 procurement practitioners including heads of entities or deputies, comptrollers, procurement directors attended the workshop. The participants were drawn from line ministries and agencies, autonomous commissions, state enterprises and county administrations.

The workshop utilized the theme: "Ensuring Compliance with the PPC Act through effective Procurement Planning." Discussions were focused on five key areas including Compliance Requirements and Record Management, Framework or Drawdown Contracting, Procurement Planning Requirements, Procurement Methods and Lead Time, as well as Bid Evaluation Process.