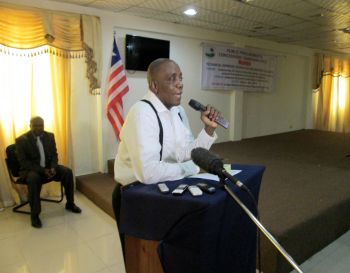 The Public Procurement and Concessions Commission (PPCC), under the aegis of the United Nations Development Programme's (UNDP) funded project, "Strengthen Transparency Accountability Oversight and Participation(STAOP)", on Wednesday, March 26, 2014 held a one day technical working session in the Conference Hall of National Elections Commission, utilizing the theme, "Enhancing Structural Authorities Ability to Prevent Corruption, Ensure Transparency and Promote Compliance". The session targeted 132 staff of large and medium spending entities of government aimed at strengthening their corruption prevention capacity in reference to public procurement. The targeted staff included deputy ministers for administration, comptrollers, procurement directors and internal auditors.
The intent of the technical working session was to increase public awareness and strengthen the procurement capacity of key staff of line ministries and agencies so as to help them understand the policies, processes and procedures guiding public procurement and adopt corruption prevention measures.

PPCC's Commissioner Charles E. Collins and UNDP Program Analyst Yvonne Wolo, spoke at the start of the session. Commissioner Collins cautioned the participants against acts that would derail development in Liberia. He warned that the Commission will not take likely the contravention of any provision of the PPC Act by entities of government in the conduct of their procurement activities. He however called for a coordinated approach among stakeholders and partners to ensure compliance with the Public Procurement and Concessions Act.
Madam Yvonne Wolo, who spoke on behalf of UNDP, called on the participants to take advantage of the technical working session organized by the Public Procurement and Concessions Commission (PPCC), with funding from the UNDP to enhance their capacities in public procurement. She accentuated that unless Liberians turned away from corrupt practices by embracing the procurement reform program, the country will remain underdeveloped.
She assured that the UNDP, as part of its plan to improve governance in Liberia, will continue to work with integrity institutions including the PPCC, to strengthen corruption prevention, transparency and accountability as well as increase transparency and accountability in the governance processes.
STAOP is a UNDP funded project which seeks to contribute to government and other actors' efforts to strengthen corruption prevention, transparency and accountability in Liberia as well as provide support to both state institutions and civil society organizations to increase transparency and accountability in governance processes. The project aims to support the achievement of the Agenda for Transformation and the objectives of the UN Development Assistance Framework for Liberia (2012-2017) which prioritizes strengthening governance and promoting transparency and accountability.
The Public Procurement and Concessions Commission (PPCC), as an implementing agency for this project has the responsibility to increase corruption prevention capacity of oversight institutions and line ministries through the conduct of technical working sessions, increase corruption prevention capacity in identified counties, organize capacity development workshop for staff on standard concessions procedures and contracts; and increase public awareness on the reform program and concessions awards through drama, jingles and talk shows.