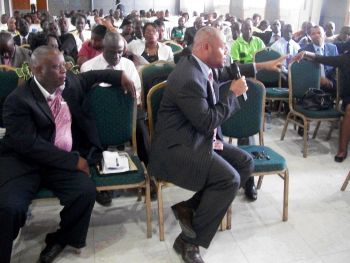 Every year the Public Procurement and Concessions Commission works with procuring entities of the Liberian Government through a hearing exercise to develop comprehensive procurement plans that give details on the conduct of entities' annual procurement activities. Section 40 of the PPCA requires all procuring entities to undertake procurement planning, geared towards achieving maximum value for public expenditure.
For the fiscal Year 2013/2014, one hundred and three (103) identified procuring entities of the Liberian Government were invited to participate in the Hearing and present their draft annual procurement plans for review, correction and subsequent approval. The exercise lasted for two weeks from the date of its official commencement (May 13, 2013).
The Hearing was preceded by a two-day procurement planning workshop held at the Samuel Kanyan Doe Sports Complex in Paynesville. It brought together deputy ministers for administration, managing directors, county superintendents, comptrollers, internal auditors and procurement directors of public corporations, agencies, state owned enterprises, and autonomous commissions.
The workshop was held on Tuesday, April 30, 2013, and Thursday, May 2, 2013, under the sponsorship of USAID-GEMS and the Integrated Public Financial Management Reform Project (IPFMRP) based in the Ministry of Finance. Presentations were delivered by some staff members of the Commission and a representative from USAID-GEMS. Topics delivered during the workshop included procurement process and need for planning, framework contracting, procurement planning, technical specification, budgeting and cash formulation, overview of procurement methods, lead time and procurement record management.