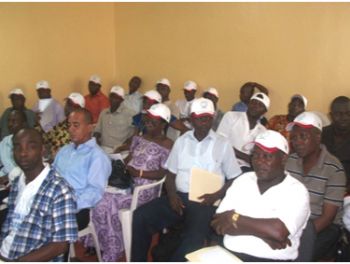 On Monday, April 15, 2013, the Public Procurement and Concessions Commission, with support from the Open Society Initiative for West Africa (OSIWA), began the conduct of three collaborative regional workshops across Liberia geared towards enhancing the knowledge of local Government officials in public procurement and to help them obtain the necessary skills to perform their various functions in the management of government funds through the county budget and resources.

In January 2012, the Public Procurement and Concessions Commission (PPCC), represented by its Executive Director, Peggy Varfley Meres, entered into a grant agreement with the Open Society Initiative for West Africa (OSIWA) to support public procurement decentralization through public awareness campaigns. The conduct of three collaborative regional workshops was one of the key deliverables as per the agreement.

Consistent with this agreement, a compressive awareness schedule was drawn by the Commission and the workshops held in three regions including Zwedru, Grand Gedeh County, representing the Southeastern Region, Gbarnga, Bong County, representing the Central Region, and Tubmanburg, Bomi County, representing the Western Region. A host of local level officials including Assistant Superintendents for Development, Chairmen of the Project Management Committee, County Accountants, County Procurement Officers, County Development Officers, and Monitoring and Evaluation Officers, participated in the workshops, which had a total recorded attendance of Seventy-nine(79).

In every region, participants were unanimous in their recommendations to the Commission. They, among other issues recommended that PPCC should decentralize its activities or make its presence felt in every county to address some of the procurement problems often encountered by local Government officials in the conduct of their procurement activities. They also recommended that PPCC should extend invitations to County Superintendents for subsequent procurement workshops to allow other officials at county levels interact with them reference to the conduct of procurement activities, and that subsequent workshops should have longer duration to give participants the opportunity to understand the procurement processes and procedures.

A team comprising mainly junior and senior staff of the PPCC delivered presentations using topics germane to the functions of procurement staff and administrators of local Government. Topics discussed at the workshops included Overview of the PPC Act, Compliance Requirements of the PPC Act, Types of Procurement and their Methods, Preparation of Procurement Plans, The Bidding Process, and the Complaints, Appeals & Review Process.

Opening formalities preceded the conduct of the workshops in the three regions. PPCC Director of Communications/ Awareness Team leader, Mr. Nathan N. Bengu, spoke on behalf of the Commission, while Assistant Superintendents for Development of host Counties delivered opening statements. Mr. Bengu challenged the participants to always make use of the available resource materials and the Public Procurement and Concessions Act in the conduct of their procurement activities. Like Mr. Bengu, Development Superintendents of host counties welcome the awareness initiatives undertaken by PPCC. They promised to at all times comply with the PPC Act in the conduct of their procurement activities. The workshops were held on the theme: Decentralizing Public Procurement Through Public Awareness Campaigns.