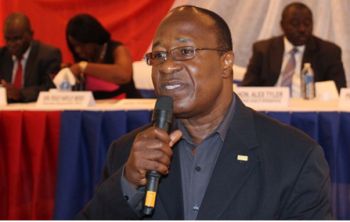 Professor Belleh tells stakeholders
The Chairman of the Public Procurement and Concessions Commission(PPCC), Professor Willie Belleh, Jr., at a well attended procurement training workshop for private sector businesses, delivered a spirited speech, challenging private sector stakeholders to see the training workshop as the medium through which they can more actively participate in the public procurement process, from the preparation and submission of responsive bids, to the delivery of goods, works and services which are of the highest quality.
Professor Belleh made the assertions at the start of a three day procurement training workshop for private sector businesses in the procurement of goods, works, and services, as well as the Complaints, Appeals and Review process, held at the Monrovia City Hall, from June 25-27, 2013.

The Commission, as a regulatory body for public procurement and concessions activities in Liberia, Professor Belleh pointed out, has accentuated consultation and collaboration aimed at informing, educating and communicating the PPC law, regulation and protocols to public sector institutions and private sector entities, and has additionally sought to dialogue with stakeholders, including private sector institutions on relevant issues of concern.
The learned PPCC Chairman told the private sector stakeholders that Public Procurement is an essential dimension of government's work, and a process through which goods and services are acquired and used to implement government's development agenda. "Good public procurement seeks to acquire goods and services at "the best total cost of ownership". This concept raises a bundle of relevant issues. The goods or services to be acquired should be in the right quantity; of the right quality; purchased at the right time; in the right place; and from the right source. The ultimate objective is to ensure value for money and the most efficient utilization of public financial resources," he pointed out.
Professor Belleh disclosed that the Commission has been tough on those who seek to compromise the good intentions and efforts of the Commission. "I am sure you have heard the many complaints from government institutions against the PPCC. But we have remained firm in doing what we are mandated to do. Without singing our own praises or seeking publicity, we have saved our government and our people literally millions of dollars from fraudulent procurement deals and practices. The recent situation at the RIA is a case in point," he pointed out.
"I am pleased to report that the Minister of Finance has been most supportive of our cause and efforts. He has formed a strategic alliance with us. This alliance ensures that no procurement voucher is processed at the Ministry of Finance without satisfying the requirements of the PPC law. Regarding the many complaints against the PPCC by public sector institutions, the response of the Minster of Finance has been classic: the reason why so many government institutions are complaining the PPCC is because the PPCC is working. He adds, the day they will stop complaining will signal the day that the PPCC is no longer effective," Professor Belleh accentuated.