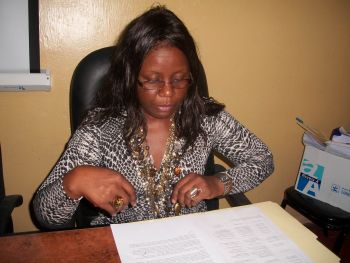 The Public Procurement and Concessions Commission (PPCC) has concluded a weeklong intensive county to county awareness workshop held in six counties across Liberia including Bomi, Grand Cape Mount, Bong, Margibi, Bassa, and Montserrado. The workshop was launched in Tubmanburg, Bomi County on October 1, 2012 and concluded on October 8, 2012 in Bentol, Montserrado County.

The workshop is in furtherance of the mandate of the Commission geared towards ensuring that local government officials understand the policies, processes and procedures in public procurement and obtain the knowledge and skills required to perform their various functions in the management of the county budget and resources. The Commission partnered with Building Markets to conduct the workshop. Building Markets is a non governmental organization working in Liberia to connect entrepreneur, create jobs and sustain peace.

At the start of the workshop in Tubmanburg, Bomi County, Executive Director Peggy Varfley Meres, challenged the participants mainly local government officials to avail themselves to the opportunity and make best use of the workshop by seeking additional knowledge in public procurement to help inform their procurement decisions. Madam Meres intoned that unless public officials took advantage of the PPC Act and the training opportunity provided by the Commission, incidences of violations of the PPC Act as witnessed in recent past will continue to emerge. "The Commission is here to help you do the right things. We will work with you to ensure that value for money in public procurement is achieved", She assured participants.

Madam Meres also challenged participants to pursue excellence in the performance of their functions and ensure value for money in public procurement. The workshop targeted local officials involved with the management of the county budget, county development funds, and social development funds including superintendent, assistant superintendent for development, procurement personnel, accountant, and members of the project management team. It was held on the theme: Obtaining Best Value for Money by Applying Best Practices in Public Procurement to Facilitate Economic Development.
Lectures were delivered in relevant areas of public procurement including Compliance Requirements of PPCA, Roles and Functions of Procurement Committees and Procurement Units, Bidding Process, Thresholds, Contract Approval & Awards, Types of Procurement & Methods, Procurement Plan Requirements, and Complaints, Appeals & Review Process.