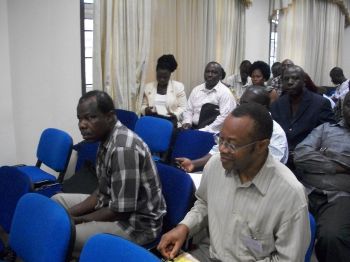 In continuation of its capacity building mandate, the Public Procurement and Concessions Commission held two in house capacity building sessions for some staff members of the National Elections Commission (NEC) and Forestry Development Authority (FDA) to facilitate the strengthening of the procurement capacity of Senior Management, Directors, Deputy Directors and Staff Members of the Procurement Division of the two entities.

At the In-House Session held in the Conference Hall of the National Elections Commission (NEC) from September 12 to 13, 2012, the PPCC Awareness team leader Mr. Nathan N. Bengu assured authorities of NEC of PPCC unflinching support and collaboration in helping to strengthen the procurement function of the National Elections Commission. Mr. Bengu however cautioned authorities of NEC against acts inimical to the provisions of the PPC Act. He spoke on behalf of Executive Director Peggy Varfley Meres.

Speaking on behalf of the chairperson and members of the National Elections Commission(NEC), Co-Chairman Jonathan Weedor assured the PPCC family of his entity's preparedness to fully comply with the PPC Act in the conduct of its procurement activities. He said as an integrity institution, NEC will do nothing to hamper the smooth implementation of the procurement reform program of Liberia. He thanked the PPCC for the prompt response to their training need which he said will strengthen their capacity in public procurement. Thirty (30) staff members of NEC including program directors, commissioners, and members of the procurement unit participated in the workshop.

Similarly, the Interim Managing Director of Forestry Development Authority(FDA), Hon. Harrison S. Karnwea, Sr., thanked the PPCC for promptly responding to FDA training request and encouraged his staff to be attentive and to make proper use of the training opportunity brought to their doorsteps by the PPCC. "The Forestry Development Authority needs to build a very strong procurement unit and effective procurement committee. To perform this task and to ensure value for money in public procurement, the FDA will at all times comply with the provisions of the PPC Act, Hon. Karnwea added.

The workshop was held on Monday, September 24 and Tuesday, September 25, 2012 at the Whein Town facility of the Forestry Development Authority. Twenty (20) staff members including the Interim Managing Director, Hon. Harrison Karnwea, his principal deputies, heads of divisions and staff of the procurement unit participated in the workshop. Lectures for both In-House Sessions were delivered by staff members of the Commission in relevant areas of procurement including Compliance Requirements of the PPC Act, Types of Procurement and their Methods, Bidding Process, Procurement Planning, and Complaints, Appeal and Review Process.